Cam Spring Machine
Economic Version
This is a traditional spring machine with a cam pushing mechanism and digital control. In the early days, the machine operator needed to use manual molds for secondary processing of springs. The cam spring machine can greatly reduce the dependence on manpower in this case. A large number of spring manufacturing operators are familiar with this type of machines. It is good for mass producers due to its economical price.
Xinda released the first-generation cam spring machine in 1997. The model is CNC620, which is still widely used in the spring industry. As the demand for different wire diameters increases, a series of models have been introduced accordingly. This type of spring machine is economical and highly stable, so it is called an economical universal cam spring machine.

The earliest cam spring machine drives the cam to work in a coaxial manner. Since there are eight forming arms on the working panel, it is also called traditional type, octopus machine, or universal wire forming machine.
Features
Small Footprint.
High Stability.
High Precision.
Long Life.
Low Cost.
Cam spring machines can be divided into two types: basic type and wire-rotating type. The basic type is a 3-axis machine, which can be expanded to 8 axes; the wire-rotating type is a 4-axis one, which can also be expanded to 8 axes. The wire-rotating function of the wire-rotating machine drives the wire to rotate through the rotating mechanism to change the spring angle, which is convenient for a single bender to complete the forming action of different angles. This function can improve the convenience of adjusting the machine and reduce the difficulty of production.

Xinda always designs spring machines from the perspective of users. We continue to optimize the quality and production efficiency of the machine, while taking into account the convenience of operation. At present, the spring machine has been sold to more than 50 countries in Europe, America and Asia, providing services to thousands of customers.

If you have requirements for spring machines or special spring patterns, please contact us for the appropriate model for you. Xinda's core team has more than 30 years of experience in spring machine design and production. We are more than happy to provide you with services and spring production suggestions.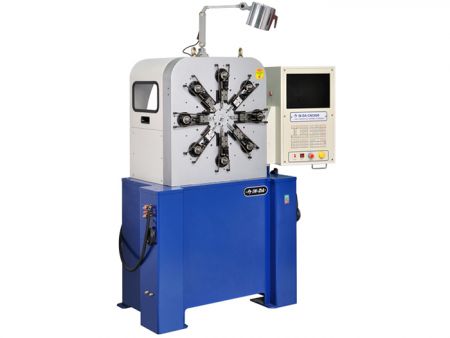 CNC608, CNC620
This series of cam spring machines are composed of three axes: cam, feed and wire-rotating....
Details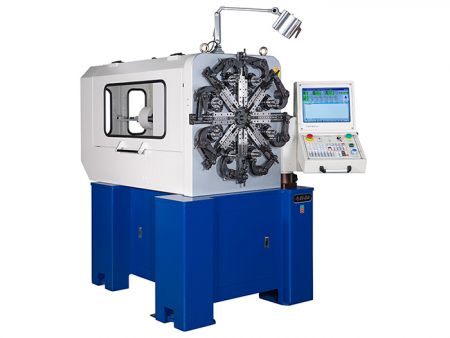 CNC620W, CNC635W, CNC650W
In addition to the basic cam, feed and quill-rotating axes, this series of cam machines adds...
Details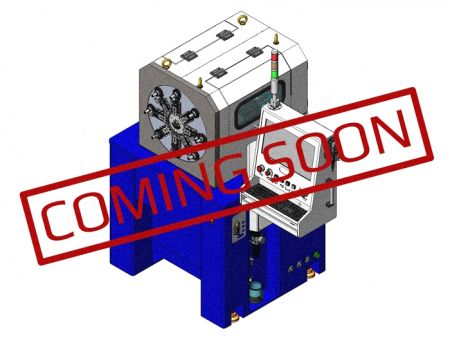 CNC405RT
This cam spring machine is suitable for producing thin wire springs with high precision. Because...
Details
Contact Us
Your Spring Machine Expert.
Xinda Cam Spring Machine Service Introduction
Based in Taiwan since 1996, Xinda Machine Co., Ltd. is a Cam Spring Machine supplier and manufacturer with more than 40 years of experence in the Machinery and Equipment Manufacturing Industry.
Xinda is a company established by a group of technicians who focus on spring machine design and understand the needs of spring production. The team has rich R&D energy and enthusiasm to continuously meets customers' various needs for wire diameter, production speed, ease of adjustment, spring accuracy, and production stability when producing springs.
Xinda has been offering customers high-quality Cam Spring Machine production service, both with advanced technology and 40 years of experience, Xinda ensures each customer's demands are met.