Camless Spring Machine
Extreme Performance Version
The camless spring machine retains the traditional operation mode of the cam machine, but greatly improves the ease of use. For operators who are accustomed to using the cam spring machine, it can be easier to use.
The camless spring machine no longer uses the coaxial working panel of the traditional cam machine. It replaces the cam mechanism with a servo motor, so that each axis can be independently controlled. It is also known as a full-servo or multi-axis spring forming machine.
Features
Each axis runs independently.
Free stroke setting.
No invalid movement.
Strong forming ability.
Low technical requirements.
High working efficiency.
100% production speed.
The camless spring machine is no need for cam arrangement. The adjustment time of the machine thus can be reduced more than 50%, compared with the traditional cam machine. Eight independent axes operate the eight spring tools on the working panel. The spring tools are no longer driven by cams, while the operator can easily edit the computer program to achieve the same purpose. The basic model is 10-axis, which can be expanded to 21-axis. Xinda's camless spring machine is equipped with a new industrial computer system. Each axis can be highly synchronized and stably operated under the system so that the machine can produce finished products at 100% production speed.

Xinda always designs spring machines from the perspective of users. We continue to optimize the quality and production efficiency of the machine, while taking into account the convenience of operation. At present, the spring machine has been sold to more than 50 countries in Europe, America and Asia, providing services to thousands of customers.

If you have requirements for spring machines or special spring patterns, please contact us for the appropriate model for you. Xinda's core team has more than 30 years of experience in spring machine design and production. We are more than happy to provide you with services and spring production suggestions.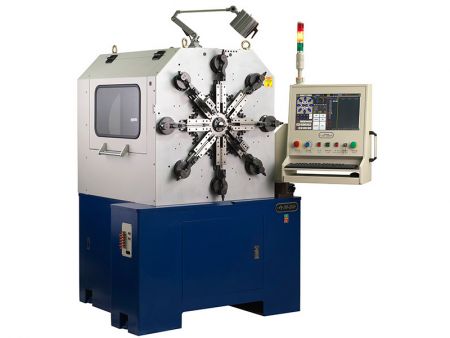 CNC1020
This camless machine is a highly efficient full-servo spring forming machine composed of eight...
Details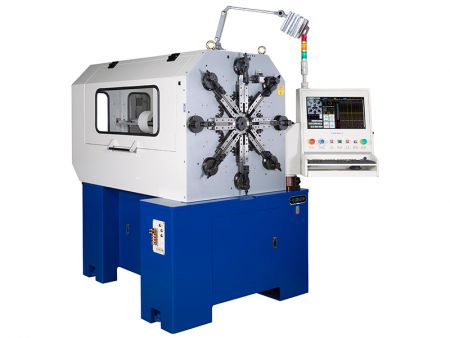 CNC1320W, CNC1350W, CNC1380W
This series of cam-free spring machine is a highly efficient full-servo spring forming machine....
Details
Contact Us
Your Spring Machine Expert.
Xinda Camless Spring Machine Service Introduction
Based in Taiwan since 1996, Xinda Machine Co., Ltd. is a Camless Spring Machine supplier and manufacturer with more than 40 years of experence in the Machinery and Equipment Manufacturing Industry.
Xinda is a company established by a group of technicians who focus on spring machine design and understand the needs of spring production. The team has rich R&D energy and enthusiasm to continuously meets customers' various needs for wire diameter, production speed, ease of adjustment, spring accuracy, and production stability when producing springs.
Xinda has been offering customers high-quality Camless Spring Machine production service, both with advanced technology and 40 years of experience, Xinda ensures each customer's demands are met.